"Thank you for your informative and really well-received session at the CalTravel Summit in May 2018. It was a popular draw and attendees rated it a strong 4.01 out of 5. You were professional and a pleasure to work. I would recommend you highly as a speaker!"
Barb Newton
President & CEO of CalTravel Association
Data Data Data: Understanding the Cannabis Traveler Audience

A guided presentation on the key findings from the latest national cannabis tourism research conducted in partnership with MMGY Travel Intelligence.

Cannabis: An 'Essential' Tool for Recovery

A guided presentation explaining why cannabis, hemp, and CBD are powerful recovery tools for hospitality businesses in adult use markets.

Flower Power: The Rise of Cannabis-Tourism

A high-level look at the emerging cannabis, hemp, and CBD tourism models, products, and services around the world.
Going Green: Sustainable Hemp and Cannabis Tourism

A fascinating presentation explaining at how hemp, cannabis, and CBD will raise the bar for sustainability and wellness travel.

 

Opportunity Knocks: Destinations, Hotels, and Attractions

An in-depth look at how certain trend-setting destinations, hotels, and attractions are adopting and integrating cannabis, hemp, and CBD.
Past Speaking Engagements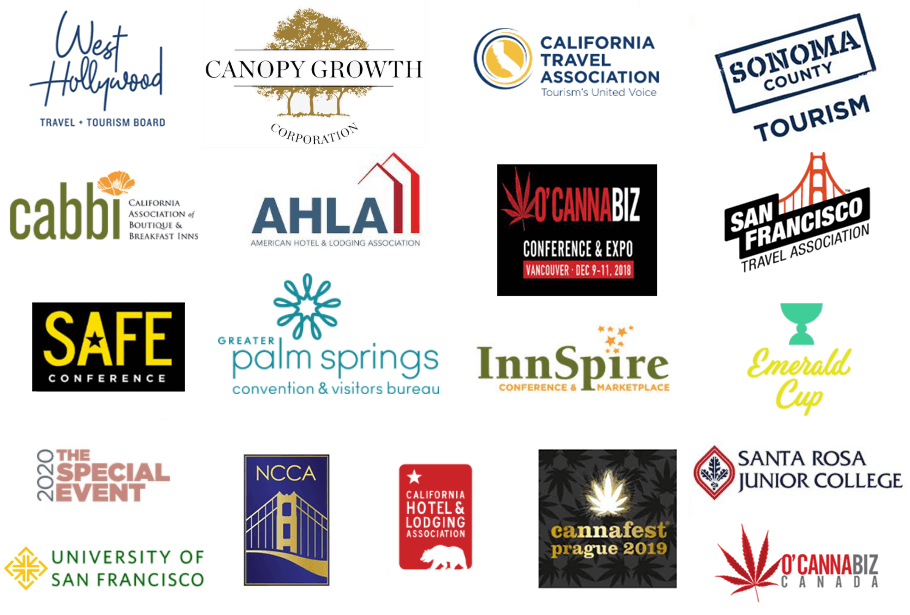 "We were fortunate to have Brian come speak on The Future Impact of Cannabis Tourism on Wine. He addresses a crowd of nearly 500 alongside fellow panelists..it was very well received by the crowd. Brian is a pleasure to work with and is truly passionate!"

Samantha Stephey
Wine Industry Network
"Brian Applegarth has spoken to our group many times on Tourism and Travel and the Cannabis Industry and is always one of our most popular sessions. He is a confident, engaging speaker with his hand on the pulse of the cannabis industry. I would recommend him to present to your group."

Jennifer Flohr, Sr. Vice President
California Hotel & Lodging Association, California Association of Boutique & Breakfast Inns
"Thank you for your informative and really well-received session at the CalTravel Summit in May 2018. It was a popular draw and attendees rated it a strong 4.01 out of 5. You were professional and a pleasure to work. I would recommend you highly as a speaker!"

Barb Newton
President & CEO of CalTravel Association
"Brian has shown his commitment to creating and maintaining a culturally accurate portrayal of cannabis in California. He is also a dynamic speaker and has the knowledge and presence to be effective."

Amanda Reiman
VP of Community Relations, Flow Kana