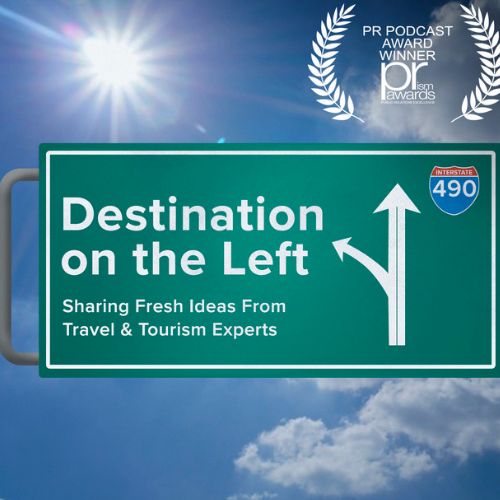 Destination on the Left Podcast Episode 248: Cannabis Travel Experiences, with Brian Applegarth
Brian Applegarth is a visionary leader in the advancement of cannabis-related travel and tourism. He is the founder of the Cannabis Travel Association, an international non-profit organization that stands as the united voice of cannabis tourism and travel. He also spearheads Applegarth Consulting Services, a cannabis-solutions provider for travel destinations, and is behind The Cannabis Trail, a non-profit dedicated to preserving and celebrating cannabis history and culture in northern California.
Brian's expertise extends to serving as a subject matter authority for esteemed industry organizations including the California Travel Association, Destinations International, San Francisco Travel, Sonoma County Tourism, Visit Greater Palm Springs, Visit West Hollywood, and the Las Vegas Chamber of Cannabis. His hallmark work embodies holistic strategy, innovation, and thought leadership at the nexus of cannabis tourism.
A trailblazer, Brian was the exclusive expert advisor for the inaugural national research on the Cannabis Travel Audience profile in the United States. Renowned for devising the Applegarth Effect Pairing method, a unique consumption approach for psychedelics in travel, he champions visitor well-being by offering safe, meaningful experiences while strategically dispersing spending throughout destinations. By positioning cannabis as a tool for targeted sensory enhancement, Brian contributes to enhanced visitor engagement.
With a global perspective informed by his experiences as a world traveler who values culture, passion, and human rights, Brian brings a unique lens to his endeavors. On this captivating episode of Destination on the Left, join the conversation as Brian Applegarth shares insights into the burgeoning cannabis travel trend. He delves deep into the diverse dimensions of the cannabis market, encompassing leisure, business, and medical contexts, and illuminates how cannabis seamlessly aligns with travel and tourism opportunities. Moreover, Brian explores how destinations can effectively address the escalating demand for cannabis-related experiences in a secure and knowledgeable manner. Tune in to glean insights from a trailblazer shaping the landscape of cannabis-centric travel and tourism.
What You Will Learn:
Ways cannabis experiences are currently being delivered across the USA and the scope for innovating in the niche in your destination
The foundational values of the Cannabis Travel Association International, including advocacy, education, and networking
Why the type of visitors who are seeking out cannabis experiences aren't necessarily who you would expect
The options for educating visitors on the uses of hemp and cannabis and developing a product that travelers can experience when they're visiting your destination
Creative collaboration and partnership opportunities in the cannabis tourism industry
Developing Cannabis Experiences
Cannabis comes in many different forms or product categories, and Brian describes the sheer variety of experiences available within the cannabis niche. From CBD relaxation tea to a spa day complete with a topical cannabis oil massage, destinations can leverage many creative options as part of their cannabis experience offering. Wherever your destination, there are opportunities to breathe new life into a region's signature crop to create a new product that attracts a new tranche of visitors.
Values of the Cannabis Movement
Brian describes why he feels an immense sense of responsibility to ensure that cannabis visitor experiences are done correctly. His ambition is to elevate all of the opportunities that show the positivity and the power of the plant and encourage destinations to explore all cannabis' uses, from sustainable hemp products to its medicinal uses. Destinations have an opportunity to get in on the ground floor of the niche and do it right — to ensure that visitors have a safe and meaningful experience.